POPnetserver 8000 (Powerful - High Reliability NAS Appliances that Storage and Move Data File Transfer)
Specifications

The POPnetserver 8000 delivers high levels of performance, availability, security, and easy management for today's heterogeneous storage networking environments. The system provides up to 2TB of storage, and a multitude of performance features, including symmetrical multi-processing, hardware caching, load balancing and high bandwidth. For a fraction of the cost, the POPnetserver 8000 offers data protection and reliability features found only in enterprise-class NAS products, setting a new standard for affordable data availability. The NAS system has been designed for business-critical storage users in demanding IT environments that require the lowest TCO.
Highlights

High-bandwidth I/O system moves data twice as fast
Symmetrical Multi-processors using Intel Xeon 2.4GHz
Expandable to 2TB in a 2U rack
Eight convenient hot swap front-load removable drives
RAID 5 (0, 1, and 5 plus hot spare options)
Multiple RAID volume with integrated cache subsystem
1GB to 6GB ECC RAM memory and caching
Dual 10/100/1000 Gigabit Ethernet LAN option
Dual 10/100 Ethernet LAN
Load-balanced and dual LAN failover
Fiber Gigabit LAN option
3-Path I/O Architecture with dual integrated 4-channel ultra ATA 100/133 DMA disk controller technology
Local-attached tape backup supports SCSI 3 drives (option)
Microsoft Active Directory Services support
Data security with POP Disaster Recovery utilities
Simplified storage management with Windows-based POPassist
Convenient redundant hot plug cooling and power supplies
Snapshot Backup/restore, POPbackup, POP Data Replicator & POP Server-to-Server Replicator
Third-party backup software supports; VERITAS, CA Brightstor, and Dantz
Standard Features
400 MHZ Front Side Bus supports dual Intel Xeon 2.4GHz processors
1GB with up to 6GB ECC RAM memory
Multiple RAID volume with integrated cache subsystem
Expandable to 2TB (RAID 0) storage capacity
Eight (8) hot swap front-load removable drives
Dual 10/100/1000 Mbit/sec Base T Copper Ethernet ports (on select models)
Dual 10/100 Ethernet LAN ports
Integrated 8-channel Ultra ATA 100/133 HDD controllers
Uninterruptible (UPS) power supply support with a choice of local or remote control
Auto bad sector re-mapping
Redundant hot plug cooling and power supplies
Integrated SCSI Ultra 160 controller
Integrated Snapshot backup/restore
Integrated Server-to-server Replicator
Front LEDs for power/status, network activity (2), disk activity
Software-controlled front power button
Network Transport Protocols
Network File Protocols
Microsoft Networks (CIFS/SMB)
UNIX (NFS)
Apple (AFP)
Internet (HTTP, HTTPS)
Internet (FTP)
Network Security
Microsoft NT Domain Controller
Microsoft Active Directory Services (ADS)
UNIX NIS
User-, Share-, and File-level Security
Kerberos authentication
Access Control List (ACL)
Dynamic DNS
Lightweight Directory Access Protocal (L-DAP v3)
Secure Shell (SSH)
Network Client Types
Microsoft Windows 95/98/Me/NT 4.0/XP/2000
Apple Macintosh System 7.5.5, 7.6, OS 8.x, 9.x, 10.x
Red Hat Linux 6.2 and 7.0
FreeBSD UNIX
Solaris 7, 8, 9
Server Emulation
Windows NT 4.0 and 2000
Appleshare 6.0
NFS 3.0
Network Connection
Integrated auto-sensing 10/100 Ethernet with RJ-45 network connector
Integrated one Gigabit copper LAN Ethernet with RJ-45 network connector
Dual LAN fail-over for Ethernet and Gigabit option
Automatic IP Address Assignment
Support DHCP, BOOTP, and RARP for automatic assignment of IP address
Support for multiple network segments
Support multiple DHCP
Multiple File System Options
64-bit file system with enhance buffer and cache is configured for maximum file protection or enhanced performance. Its options include:
RAID 0 (disk striping) one large virtual drive with data striped across all physical drives (no loss in usable capacity)
RAID 1 (disk mirroring) second set of drives duplicates the first set for maximum data protection (50% usable capacity)
RAID 5 (disk striping with parity) the size of one volume is reserved for parity checking
RAID 5+ (RAID 5 with hot spare), additional hot spare volume is reserved on the RAID 5 volume, no performance different upon one of the disk fail within the RAID 5 volume.
Individual Independent Disks and Volumes
Eight separate drives, each seen as a separate volume (JBOD)
Snapshot Backup/Restore
Browser GUI user interface integrated into the OS
Single and multi-volume Snapshot support
Support maximum 15 snapshot views for each volume
Real time and scheduled snapshot backup
Server-to-Server Replicator
Browser GUI user interface integrated into the OS
Any data, including file system or raw partition data
Entire volume and folder replication
Continuous replication either asynchronous or synchronous
Maximum of 64 simultaneous synchronization replications
Supports multiple network segments
System Management
POPassist (POPsearch, POPmap, POPmanage)
Web-based Administration
Multiple NIC control with automatic detection and setting for failover and load balancing
Multiple RAID volume
POPbackup (Server backup and restore) with compression
Data Replicator, Windows client backup and restore
Snapshot Backup
Server-to-Server Replicator
User Space Quotas for Windows, Macintosh and UNIX/Linux
Group Space Quotas for UNIX/Linux
Security
Email notification alerts
RAID Volume Status
SNMP (MIB II and Host Resource MIB)
Environmental monitoring for disk, CPU temperature, and power supplies
Uninterruptible power supplies (UPS)
Bad sector re-mapping
Front LEDs for power/status, network activity (2), disk activity
Software-controlled front power button
System Status
Setup and Configuration
Web-Based user interface (IE) for system administrator
Physical Specifications
Width 17.0 " (43.2 cm)
Depth 28" (65 cm)
Height 3.5" (8.8 cm)
Maximum weight is 65 lbs.
System Certifications
Power
Power rating: less than 420 watts, 100-240 VAC, 50-60Hz, auto-sensing external power module
Dual redundant hot-plug power supplie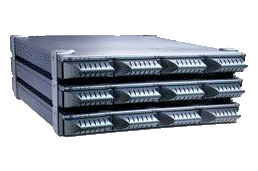 Where to Buy
POPnetserver 8000 data sheet