POPnetserver 2000 (3 Drives)
Specifications

Adding and sharing data has never been easier and more efficient. In just five minutes and two mouse clicks, the POPnetserver 2000 is up and running. With the FIA POPnetserver 2000, small businesses, departments and workgroup clients benefit from an easy to manage, plug-and-play Network Attached Storage (NAS) device that enhances performance and provides scalability and high reliability, all for a lower total cost of ownership. The POPnetserver 2000 is ideal for companies with limited or no IT staff resources.
Key Features
Stand-alone unit w/wall mount and rackmountable option
(3) 1" drive bays
Maximum storage capacity is 240GB (RAID 0)
Non-RAID, RAID 0, 1, 5 support (RAID 0, JBOD)
Supports 650 MHz processor
Minimum 64MB memory support
Fast Ultra ATA-IDE HDD
Integrated 10/100 Base-T network interface
Backup and Restore
Network Transport Protocols
TCP/IP
IPX
NetBEUI
AppleTalk
Network File Protocols
Microsoft Networks (CIFS/SMB)
Novell NetWare(NCP)
UNIX (NFS)
Apple (AFP)
Internet (HTTP 1.0)
File Transport Protocol (FTP)
Network Client Types
Microsoft Windows 95/98/NT 4.0/2000/Me
Novell NetWare clients for Windows
Red Hat Linux 6.2 and 7.0
Macintosh System 7.5.5, 7.6, OS 8.x, 9.x
Server Emulation
Windows NT 4.0
NetWare 3.12
Appleshare 6.0
NFS 3.0
Network Connection
Auto-sensing 10Base-T and 100Base-TX, single RJ-45 network connector

Automatic IP Address Assignment
Supports DHCP, BOOTP and RARP for automatic assignment of IP address

Multiple File System Options
Configured for maximum file protection or enhanced performance, options include:
RAID 0 (disk striping) one large virtual drive with data striped across all physical drives (no loss in usable capacity)
RAID 1 (disk mirroring) second set of drives duplicates the first set for maximum data protection (50% usable capacity)
RAID 5 (disk striping) data and parity information are distributed across all drives--tolerates the loss of one drive.
Individual Independent Disks
Three separate drives, each seen as a separate volume (JBOD)

System Management
POPAssist
Web-Based Administration
Disk Space Quotas
Security
Backup and Restore
A simple user interface for managing backup

Setup and Configuration
Web-Based User Interface for System Administration

Physical Specifications
Dimensions:
Width 17.25 in (43.2 cm)
Depth 17.5 in (44.5 cm)
Height 1.75 in (4.4 cm) 1 U
Weight 15.0 lbs (6.82 kg)
Agency Certifications
UL, cUL, FCC - Class B

Power
Power Rating: 150W, 100-240 VAC, 50-60Hz, auto-sensing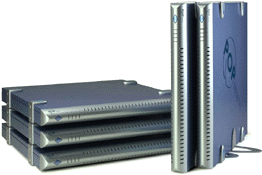 Where to Buy
POPnetserver 2000 data sheet